From the 23rd to the 25th October, forty seven students from the following local schools benefitted from a unique hands-on learning experience hosted at Culford School.
King Edwards School
St Benedicts School
County Upper School
Thurston Community College
Stour Valley Community College
Sybil Andrews Academy
Culford School
Ixworth Free School
The three-day residential programme, led by national educational charity, The Smallpeice Trust and funded by the local William and Ellen Vinten Trust, aimed to engage the students and provide them with the opportunity to learn about careers in engineering through a major project, company visit and presentations.
Students were given a unique insight into a famous local engineering company when they visited Vitec Videocom, to see all aspects of engineering in action; in a company founded by the Vinten family.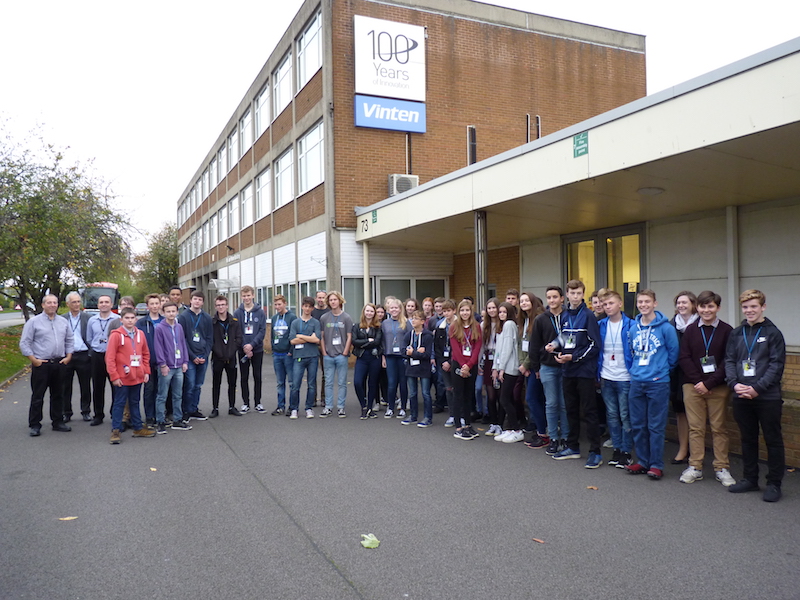 In teams, the 13 to 15 year old students worked on technical challenges led by engineers from Jaguar Land Rover (JLR) and Thales.  The JLR design-and-make projects included designing, building and promoting an all-terrain motor-powered vehicle.  For Thales Derek Langley, the authority on airborne reconnaissance systems, created a new project based on a STEM activity that he delivers at Latitude.  This set up a challenging space rescue with many difficult constraints and new technical concepts that had to be mastered; most importantly it taught the students the importance of rapid concept development, experimentation and adaptation in order to attempt the mission.  As well as working on the design, build and test elements of the projects, the students developed life skills such as team work, communication, problem solving, time management, finance and presentations.
The social programme included a reception and Gala dinner, with guests from local companies and the teachers from the schools involved.   Adeline-Fleur Flemming from ARM was the inspirational guest speaker.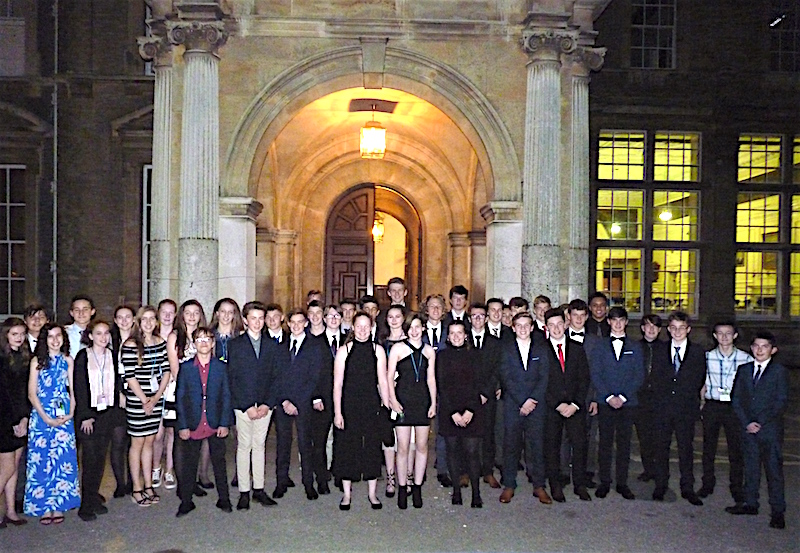 The experience finished with students presenting their projects to guests and families.  Prizes were awarded to the best project teams by Jaguar Land Rover and Thales.
A prize was awarded by Adeline-Fleur Flemming for the best presentation.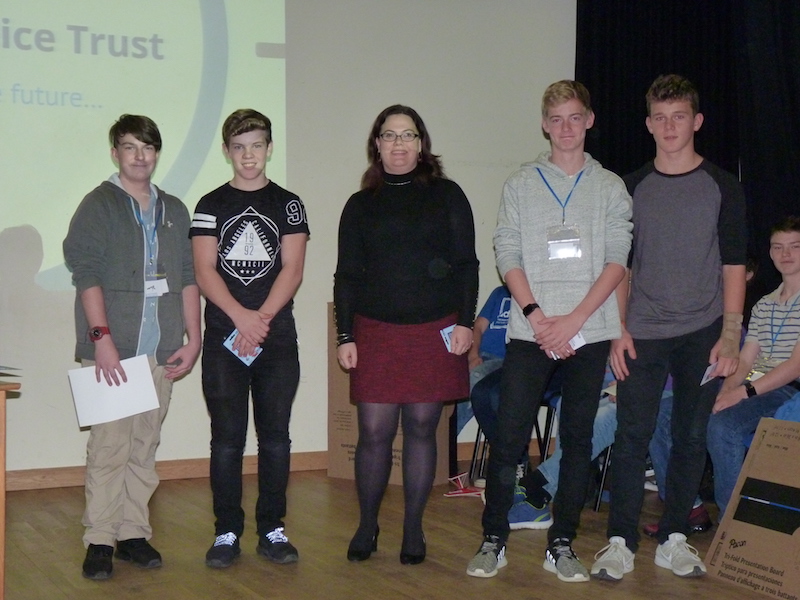 Two outstanding students Jack Groom & Charlotte Hudson  were recognised and received a prize of their choice of Smallpeice residential courses.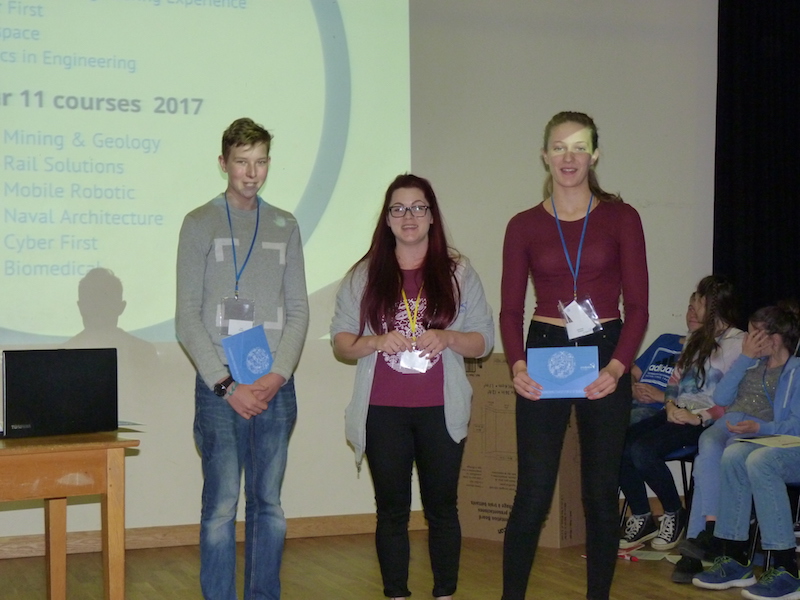 The closing speech was given by Emma Devlin who attended the first Bury St Edmunds Engineering Experience in 2010 and is now in her last year studying Engineering at Cardiff.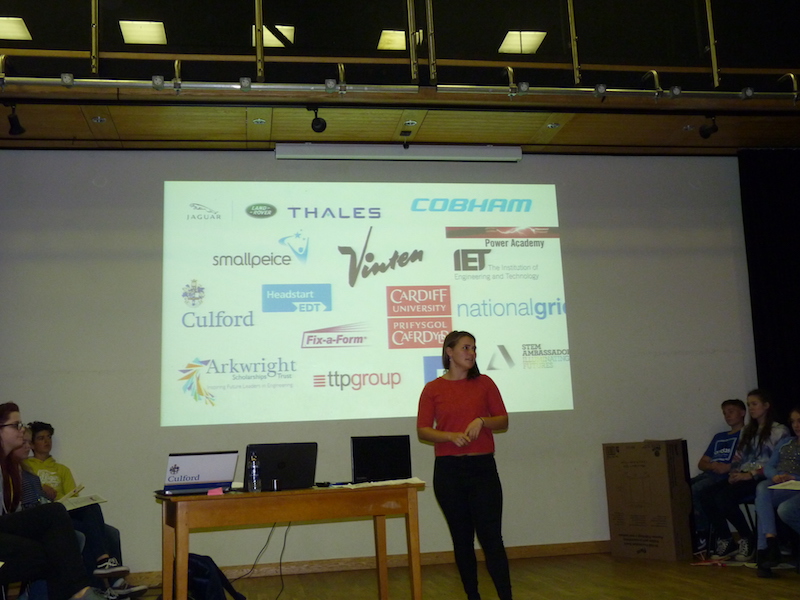 David Youngman, Trustee of the Vinten Trust and lead for the event, said that he and his fellow trustees were delighted to continue to organise and fund this event for the fifth time. He added,
"Our aim is to open the eyes of our local students to the amazing and abundant possibilities of a career in Engineering, this event allows us to work with other brilliant organisations to deliver a focused and fun insight that can play a major part in setting the direction for students that attend.  It is brilliant to work with the Smallpeice Trust, who share our local goals at a national level, to encourage young students to consider a career in engineering.  Without them and the significant active involvement and support from the teams from Thales, Jaguar Land Rover and Vitec Video Com we would not be able to deliver such a unique event to the students of Bury St Edmunds who we hope to inspire."
Emma Culey, Education Officer from The Smallpeice Trust commented, " I have been so impressed by the enthusiasm, commitment and resilience shown by the students on this course. Through this programme, the students have developed their engineering, teamworking and social skills and I hope this opportunity has opened up the students eyes to how exciting a career in engineering can be. We are extremely grateful to the William and Ellen Vinten Trust for sponsoring this course."
Established in 1982, the principal aim of the William and Ellen Vinten Trust is to pursue initiatives which increase the interest of school and college students in the Bury St Edmunds area in science and technology subjects. The goal is to increase the numbers of students who might consider careers in the engineering disciplines and to improve their levels of attainment
Founded by Dr Cosby Smallpeice in 1966, The Smallpeice Trust has grown successfully over the past 50 years, helping thousands of young people find a successful career in a multitude of disciplines within the industry from engineering materials, marine technology and naval architecture to nanotechnology and structural engineering. Through running residential courses and STEM enrichment days, more than 50,000 students have attended a Smallpeice activity in the past year.
Vintner Trust – Nov 2017
---